Are you in search of a magic potion for your hair? Well, we can help you in exploring something that can do wonders for hair.
Factors like stress, lack of sleep, imbalanced diet, pollution all can make hair dull and brittle. Hair demand for regular pampering and nutrition. Any kind of imbalance in your lifestyle reflects in your hair.
This single product can improve hair volume, hair length, shine, and strength. Yes, you guessed it right, we are talking about 'yellow gold' extra virgin olive oil.
How olive oil can improve hair quality:
It makes scalp hydrated and dandruff free and helps hair growth.
Regular massage with extra virgin olive oil can maintain the moisture and weight to the hair, making them more lustrous and shiny even in harsh winter.
Regular use of color, extension, and other harsh products often cause hair-splitting. Apply olive oil to calm the frizzy and dull hair and control split ends.
If you are fascinated with long hair, then massaging the scalp regularly with extra virgin olive oil can give you a promising result. Rich in the multivitamin, olive oil is highly effective in inducing hair growth.
How to use olive oil for hair?
Massage the scalp twice a week with mildly hot olive oil. Give a rejuvenating massage to your head with Arbequina Mild Extra Virgin Olive Oil.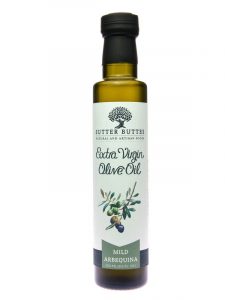 Make a hair mask. Take a portion of avocado, add a few drops of olive oil and apply it to your hair. This will make the scalp moisturized and prevents hair fall.
Apply a few drops of olive oil after shampooing the hair, it will work as a hair serum.
The Sutter Buttes give you a chance to find the finest olive oil. Explore the collection of extra virgin olive oils that we have for you and nourish your hair and health with the goodness of olives. Try Fresh Harvest Garlic Olive Oil to flavour the food and avail the benefit of garlic for the good health, glowing skin, and healthy hair!