WHOLESALE

To gain access to Sutter Buttes Wholesale information, please fill out the form below!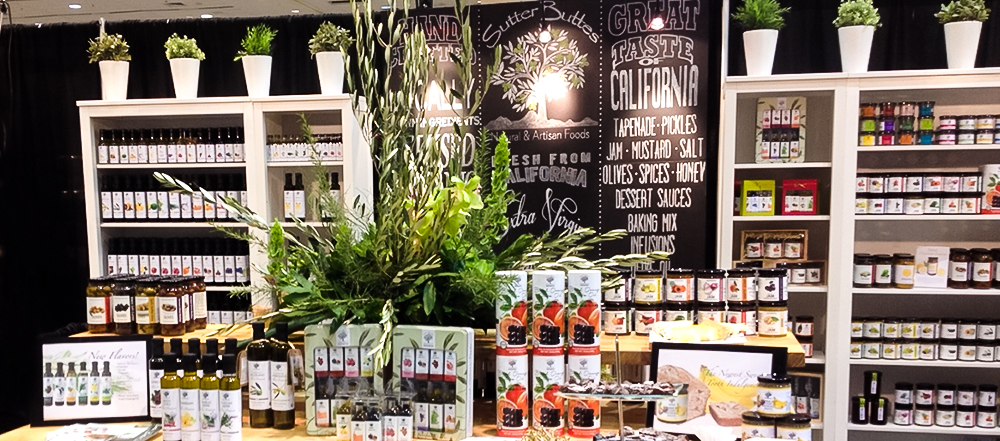 We provide wholesale quantities in following products:
Wholesale California Extra Virgin Olive Oils
California Arbequina Extra Virgin Olive Oil
California Koroneiki Extra Virgin Olive Oil
California Ascolano Extra Virgin Olive Oil
California Mission Extra Virgin Olive Oil
Naturally Infused California Extra Virgin Olive Oils:
Fresh Harvest Garlic
California Lavender
Fresh Basil
Rosemary
White Truffle
California Lime
Blood Orange
Meyer Lemon
Thai Chilli
Habanero Pepper
Vanilla
Citrus Habanero
Tuscan Herb
Habanero Peppers
Premium Balsamic Vinegars
Traditionally Made
White Balsamic Vinegar
Rosato Balsamic Vinegar
Dark Raspberry
White Raspberry
California Peach
Lemon
Dark Cherry
Blueberry
Pomegranate
California Fig
Cranberry
Apricot
Black Currant
Vanilla
Pineapple
Espresso
Dipping Sauces made with California Extra Virgin Olive Oil and Traditionally Made Balsamic Vinegar
Traditional Garlic-Herb Balsamic Dipping Sauce
Spicy Garlic-Herb Balsamic Dipping Sauce
Parmesan Dipping Sauce
Tuscan Herb Dipping Sauce
Tapenades and Spreads
Farmhouse Olive Spread
Sun-Dried Tomato & Olive Tapenade
Parmesan-Asiago Spread
California Green Olive Tapenade
Olive and Parmesan Tapenade
Kalamata and Caper Tapenade
Green Olive Tapenade
Fig and Olive Tapenade
Spices and Rubs
Bouquet of Herbs
Roasting & BBQ Rub
Fish & Seafood Seasoning
Roasting and BBQ Rub
Green Tea Peppercorn Rub
Chili Lime Rub
Porcini Rub
Provencal Dipping Herb
Lemon Herb Seasoning
Mango Chipotle Rub
Porcini Powder
From The Sea Seasoning
Hunters Seasoning
Sweet and Savory Jams
Carmelized Onion and Balsamic Jam
Apricot-Jalepeno Jam
Pineapple-Mango and Habanero Pepper Jam
Hot Seven Pepper Jam
Ginger Jam
Meyer Lemon Ginger Jam
Raspberry Blackberry Jam
Peach Pie with Agave Nectar Jam
Maple Apple Jam
Merlot Wine Jam
Peach Bourbon Jam
Blueberry Lime Jam
Bulk and Food Service:
All our Olive Oils and Balsamic Vinegars are available in Bulk and Food Service Sizes:
2.5 Gallon, 5 Gallon, 55 Gallon.
Private Label Program:
Many of our products are offered in "Sutter Buttes Private Label Program".
We can assist you in developing your new private label, please contact our office for details at 530-763-7921.
Our facility is capable to provide full service to both small and large clients.
If you would like to receive more wholesale information, please contact us.
WHOLESALE