DIY Artisan Pizza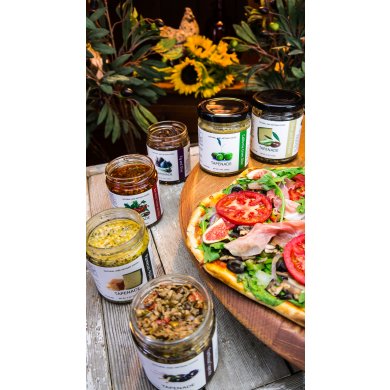 DIY pizzas are a delicious way to bring together the family on a cooking project. If you are not making your own pizza dough (see recipe below), simply buy flatbread at the grocery store. Decide on your favorite toppings, we love to incorporate Sutter Buttes Tapenades. Try the Sun-Dried Tomato & Olive, Fig & Olive or Parmesan-Asiago as a base, add your ingredients and cover with fresh
mozzarella. Use the Farmhouse Tapenade as an ingredient along with other gourmet toppings. Bake to melt the cheese and serve! Don't forget Sutter Buttes Oils and Vinegars to drizzle on top as a finishing touch.
Pizza Pairing Suggestions:
• Fig & Olive Tapenade with Prosciutto and Arugula
• Parmesan-Asiago Spread with Zucchini, Tomatoes and Garlic
• Sun-Dried Tomato Tapenade with Salami, Italian Sausage, Cherry Tomatoes and Fresh Basil
• California Green Olive with Fresh Mozzarella, Heirloom Tomatoes and Fresh Basil
• Try Thai Chili Oil or our Traditional Balsamic to put the finishing touch on your homemade treat.
Quick Pizza Dough:
Ingredients
Directions:
Place yeast, sugar and warm water in a large bowl. Let sit for 10 minutes to proof, the yeast should form bubbles and get foamy. Add olive oil, salt and flour to the bowl and mix until combined into a slightly sticky dough. Knead dough by hand for 5 minutes to create a smooth consistency, form a ball and place in bowl. Cover bowl with damp towel and place in warm place to rise for 30 minutes.
Divide dough, makes 2 large pizzas or 4 small pizzas. Roll out and top as desired. Grill on high for 5-7 minutes until crust is crispy and cheese is melted. Finish with a drizzle of Olive Oil or Balsamic Vinegar. Enjoy!